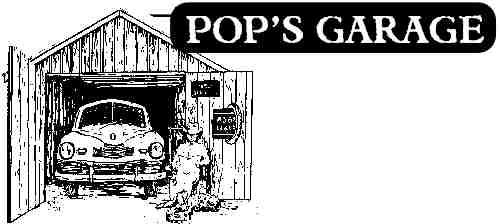 GM''s Motorama was the subject, as Pop and the guys were in the shop working on Jim's '53 Buick Roadmaster 2 door hardtop. "This car reminds me of the Motoramas I used to go to in the '50's. My favorite one was the 1955 Motorama, with its opening in New York City at the Waldorf-Astoria. GM would open in New York City in January, and take it around the country to Miami, Los Angeles, San Francisco, Boston and so forth, and give GM folks (thats what they called the publication they sent out to us readers to inform us of the latest company news) a chance to see the show. It was a first-class event, with dream cars and trucks, a real close-up look at production cars, and the latest innovations at GM, all done in theatrical settings with movie and television stars. It was just great! My favorite display was the Flying Turntable. It was a huge, car-sized turntable with a feature car on it, about 12 or 13 feet above the floor, and it spiraled down and stopped just above a large pool of water. The car I saw was a '55 Buick, 2 toned 4 door hardtop, and I'll never forget how it gleamed, with all the colored lights, dancing girls, and music. Broadway columnist Dorothy Kilgallen should have written about it as a Broadway show! Its no wonder their cars sold so well in those days."
"I was there, too," George added. "I was interested in the GM Dream truck called LUniversalle. It was a preview of what we saw later in early '60's van styling, except highly customized. It had a front end with hooded headlights, bumper bullets, an unusual wraparound windshield and the side body panels had sort of a Buick-like side sweep formed into the body. It even had front wheel drive!"
"How many Dream Cars were there, Pop?"Sandy asked.
"Seven cars: The LaSalle II Sedana concept car that would later become the Buick Riviera in '63, the Pontiac Strato-Star, LaSalle II Sport Coupe, Olds 88 Delta, the Buick Wildcat II (it was a convertible sports car), a Cadillac Eldorado Brougham 4 door hardtop, and the Chevrolet Biscaynea series that would be seen later on for Chevrolet."
"Who were some of the movie stars, Pop?" Tom asked.
"They had to be the best of the day: Bob Hope, Milton Berle (Uncle Miltie), Audrey Meadows from Jackie Gleasons The Honeymooners,sponsored by Buick, Dinah Shore, and more! Dinah had a very popular TV show sponsored by Chevrolet, and I can still hear her closing the show with See the USA in your Chevrolet! I loved all of these people, the cars and the times,Pop said. And this '53 Buick was an icon of that time. '53 was Buick's Golden Anniversary, and they celebrated it with an all-new car with a 322 cid V-8 on the Roadmasters and Supers (the Special retained the straight 8), a new 12-volt electrical system, an improved twin-turbine Dynaflow and Harley Earl styling at his best with round body, flowing lines and that big chrome bar grill that the Europeans called the million dollar grin!"
Jim's '53 looked great in White with Red and Black interior, special V-8 hubcaps and wide whites. Jim got in and showed the guys the dash. It was Red and Black with a Maroon engine-turneddesign in the middle, topped off with a Black cap.
"How did they get that machined look?" Tom asked.
"It's a Dinoc--a decal with the graphic silk screened onto adhesive back Mylar that adheres to the metal dash." Pop told him.
"They really paid attention to every detail. The doors even have V Roadmaster crests on them, and I see your car has power windows and seats," Sandy said.
"Yeah, and theyre the original hydro-electrics. We rebuilt the entire system, and it works great. The only thing Im having trouble with now is the engine. It has a miss we just can't get out and #1 and #3 spark plugs keep going bad."
"Let's take a look!" Pop said.
First he checked the firing order, 1-2-7-8-4-5-6-3, and followed each wire from the distributor to the right spark plug. All were wired correctly and all the wires were the correct stranded kind, and not suppression wire. He checked the left bank wires for positioning and they were correctly positioned in the loom, but on the right bank, #3 and #1 wires were side by side in the loom. "That's your problem," Pop said.
Do you know what was wrong?